Autumn 2018
We are pleased to announce that we have been selected for Tesco Bags of Help votes in Pulbourough, Storrington and Billingshurst in November and December. Please pop your blue token in the box for us, so that we can visit the schools in the area with our workshops. Thanks in advance.
Summer 2018
As the heat wave continues, what better to launch a new workshop- 'Vitamin Sea'- the curative powers of the sea. This was a great success with 90 Year 3 students, who were studying the 'seaside- then and now' and how like Victorians, we still use it today to day to help our mental and physical well-being, but in many different ways. We all even had time to learn to surf and paint pebbles. Year 3 are now ... all the the beach! To see more details about the workshop click here. We are pleased to announce that we have been successful in securing a donation from the Midhurst Lions Club for a grant of £500. This will support visits to young people in and around Midhurst with our workshops. Thank you to Midhurst Lions for their support.
What is a CIC?
We often get asked 'What is CIC?' So we thought we'd explain ... A CIC is a type of company for people who want to be involved in a business that benefits the community. This means a CIC is not for personal gain, so directors and employers will not make millions of pounds from the CIC. Instead the money goes to the community. But most importantly a CIC has as an asset lock which means that it cannot be asset stripped for private gain. A CIC also needs to show the Regulator that it benefits the community and does not exist for political aims. CICs work in every sector, including: business, services, childcare, education, energy, environment, health and social care, housing, media, media, sports and the arts. As a CIC are able to seek grants and funding to support their community activities and welcome donations and support from Individuals, Corporates and Legacies.
GDPR
The new General Data Protection Regulation (GDPR) comes into force from 25th May 2018! So if you would like to join our email mailing list with a personal email address/contact details, we need to seek for your ACTIVE consent to send you news and details about our workshops. Please sign up here through the form:
http://eepurl.com/cpOtnv.
If you choose not to, you will always find our news on here: https://www.facebook.com/Saltwcltd Spring 2018 We are pleased to announce that we have been successful in applying for a grant of £500 from WSCC Small Grants Fund. This will support visits to young people in West Sussex with our workshops. Thank you to WSCC for their support.
February 2018
We are pleased to announce that we have been successful in applying for a grant of £5,000 from the Santander Foundation. This will support visits to young people in West Sussex and Hampshire with our workshops. Thank you to the Santander Foundation for their support.
January 2018
Brave Will- never give up! When Saltwater Creations CIC received a heart felt message from a parent just before Christmas we asked if we could share the story with you. This is why we do what we do.
Letter from Will's Mum- Charley.
In the Autumn term of 2017 Amanda visited St Mary's School in Clymping where both my children William 7 and Hannah 4 go ... one of the schools values is perseverance and this was the topic for that term . The children were all mesmerised by Amanda's story and William was talking about it at home for days after .... he had now seen true perseverance and was amazed by Amanda's positive outlook. In December William became unwell with strep throat which then developed into a really nasty condition called Steven Johnson Syndrome. It was a really horrible time and at times difficult to remain positive ... one day in hospital William said to his dad that he wanted to be out of hospital and home for Christmas .... and said that he needed to be like Amanda and show perseverance! William did exactly that, he started doing all the things the doctors wanted and began to prove them wrong! He was determined to get home for Christmas and with a bit of convincing managed to get discharged on 23rd December! Whilst in hospital I made contact with saltwater - to let them know the amazing impact Amanda's talk had had on William and how her story was helping him (and us) get through such a tough time. Both Jules and Amanda got in touch and we have remained in touch since - we have even had a visit to Amanda's house!

Thank you so much 😊

Charley - Wills mum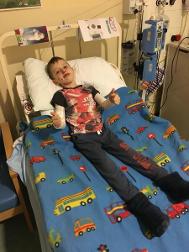 2017-2018
We are pleased to announce that we were successful in securing £5,000 from the Tesco Bags of Help scheme and are currently delivering workshops to schools in and around Bognor Regis, Littlehampton, Chichester and Haslemere. Thanks to all that supported us in your local stores.